Sharpe Appliance Spares supplies a wide and increasing range of domestic drinking water filters and their accessories using the 'Spare Wise' trading name.
Spare-Wise has been created to help you choose a product in a broad and evolving market. We take pride in our knowledge, one-to-one customer service and continued support. If required, we can inform you when your filter requires replacing and keep you up-to-date with changes in technology, making sure that you always have a product that suits you.
We are always here to help. If you wish to order an item or if you have a question regarding one of the products, please don't hesitate to contact us. Not only do we operate a fast and efficient delivery system but we take great care to ensure that products are well-packed and clearly labelled so that they reach you in good condition and on time.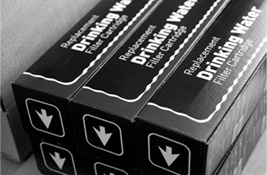 As problems with the quality of drinking water in some parts of the country increased, it became evident that we needed to give a higher profile to water treatment and 'Spare Wise' was born. It has now evolved into a thriving part of our business.
Our knowledge on the many aspects of domestic drinking water treatment has been accumulated over the last 25 years and is hard to match. We are confident that we can offer help and advice on many systems including ultra-violet treatment and reverse-osmosis.
We specialise in drinking water filters for the following brand names: • Aquadial • Aqualyze • Aqua Water Systems • Bayhall • Calmag • Culligan • Ecosoft • GE Osmonics • Liff • Omnipure • Pentek • Spectrum • Waterside         
We stock U/V Lamps and Quartz Sleeves for Atlas • Calmag • DaRo • Luminor • Philips • Sabre • Sterilight                        
And stock many parts including:  Bowl wrenches • Block Salt • O Rings • Touch Taps • Speedfit fittings • Nylon Tube • Conversion Kits• Jaco fittings • Clips • Brackets • Washers • Inserts • Heads • Water Hardness Kits • Filter housings • Membranes • Self Piercing Valves • Tap levers & Nozzles • Wrappa Wires